Article content
A look at Monday's Edmonton weather by Environment Canada.
It's 9.0 C at the Edmonton Blatchford weather station with 4 km/h winds out of the south.
Article content
The wildfire smoke came back the very next day – or maybe it never left.
Either way, an air quality advisory remains in effect for the city of Edmonton, and large swaths of central and north Alberta, as smoke emanating from wildfires burning in neighbouring British Columbia and N.W.T continues to blanket our skies.
Article content
"Wildfire smoke concentrations can fluctuate over short distances and vary considerably from hour to hour," the statement reads. "Wildfire smoke can be harmful to everyone's health even at low concentrations. Continue to take actions to protect your health and reduce exposure to smoke."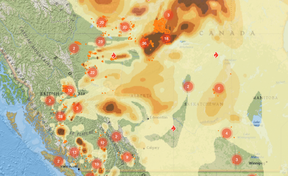 Smoke from wildfires in B.C. and N.W.T. blankets much of central Alberta Monday. Photo by FireSmoke.ca
As of 6 a.m., the Air Quality Health Index (AQHI) was reading a 10, or high risk, for the Edmonton area. It's forecast to improve throughout the day, dropping to a 7 (high risk) this afternoon and a 4 (moderate risk) by the evening. Provided the forecasts hold up, of course.
The good news? We should be out of the woods here soon with forecasters calling for far less hazy skies tomorrow as the clouds move in. Still, expect to see that orange hue peaking through the curtains today. Not eerie at all.
Oh, and there's a risk of frost overnight. Enjoy!
Today's forecast
Today: A mix of sun and cloud. Widespread smoke becoming hazy near noon. Wind becoming northwest 20 km/h gusting to 40 this morning. High 17. UV index 3 or moderate.
Tonight: Clear. Hazy. Wind northwest 20 km/h gusting to 40 becoming light this evening. Low 4 C with risk of frost.
Article content
Tomorrow: Sunny. Increasing cloudiness late in the afternoon. Hazy. High 15 C. UV index 3 or moderate. Cloudy overnight. Low 8 C.
 Sunrise: 7:13 a.m.
Sunset: 7:43 p.m.
Normals:
Max: 16 C
Min: 5 C
On this day (1996-2022):
Highest temperature: 24.9 C in 2008
Lowest temperature: –0.4 C in 2010



Widespread wildfire smoke, 23 C high, air quality alert continues




Quinn's Quest: Edmonton woman's search for kind stranger who helped during autistic meltdown
Yesterday's temperature
High: 21.4 C
Low: 8.4 C
Precipitation: 0.0 mm
📸 Eye On Edmonton
This space is dedicated to some of the great and interesting photos taken by Postmedia photographers while they're out and about town.
Scroll through our archived Eye On Edmonton photo galleries.
Follow Postmedia photographers on Twitter.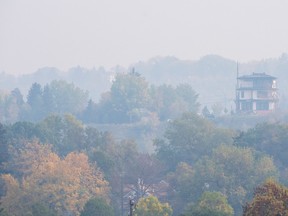 Smoke obscures the view of homes along 99 Street on Sunday, Sept. 17, 2023 in Edmonton. Photo by Greg Southam /Postmedia

Sandhill Cranes fly through the smoke on Sunday, Sept. 17, 2023 in Edmonton. The air quality index is at a 9 which is considered high risk. Photo by Greg Southam /Postmedia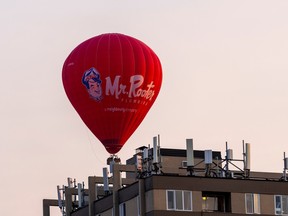 A hot air balloon goes past a building near the Alberta Legislature on Sunday, Sept. 17, 2023 in Edmonton. Photo by Greg Southam /Postmedia Summer subscription sale: Our in-depth journalism is possible thanks to the support of our subscribers. For a limited time, you can get full online access to The Edmonton Journal and The Edmonton Sun, along with the National Post and 13 other Canadian news sites, for just $40 for one year or $1 a week for 52 weeks. Support our journalism by subscribing today: The Edmonton Journal & The Edmonton Sun.
Originally Appeared Here