Article content
Three people sustained serious injuries in a shooting late Monday at West Edmonton Mall, police say.
At about 7:40 p.m., according to a release, police responded to reports of a shooting at the mall.
Article content
When officers arrived on scene, they found three males with gunshot wounds.
"All males were transported to hospital by paramedics with serious but non-life-threatening injuries," the police said in a release.
The shooting happened in Phase 3, which sits on the west side of the mall.
"The area in Phase 3 where the shooting occurred is not going to be accessible as police investigate the incident," read a press release issued just before 10. p.m.
The mall went into lockdown, as the EPS Tactical Unit cleared the facility.
The lockdown was lifted just before 10 p.m.
Police say they believe this was a targeted incident and those involved are known to each other.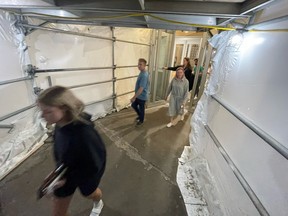 Shoppers exit West Edmonton Mall after a lockdown that lasted nearly two hours after a shooting in the evening of Monday, Aug. 21, 2023. Photo by David Bloom jpg
Social media posts early on in the lockdown indicated shoppers were hiding in stores.
Some shoppers reported being told to move to back store rooms after initially waiting inside locked stores.
In an earlier police release, people were being asked to steer clear of the mall.
Article content
The incident also forced the closure of the Edmonton Transit centre outside the mall.
Pick-up and drop-off was rerouted away from the mall, before the centre reopened just before 10 p.m.
The mall, a major tourist attraction and one of the largest malls in North America, says on its website it that conducts lockdown drills four times a year to prepare for emergencies.
It tightened security in 2015 after it was named a potential target in a video attributed to al-Qaida-linked terrorist group al-Shabab.
In 1996, the mall was the scene of a shooting on Boxing Day that took the life of a reported gang member.
The mall has more than 800 stores, attractions and restaurants and sees about 30 million visitors a year.
— with files from Canadian Press
More to come…