Reviews and recommendations are unbiased and products are independently selected. Postmedia may earn an affiliate commission from purchases made through links on this page.
Article content
Pink Mountaintops: One of the coolest, trippiest Canadian (or otherwise) bands to emerge out of the early 21st century, Stephen McBean's Vancouver's Pink Mountaintops are playing kind of an unexpected and unusual venue: Dive Bar on Jasper Avenue. The shifting-lineup band's self-titled debut, Axis of Evol and Outside Love are all well-worn classics on college radio over the years, and this tour supports the band's newish album Peacock Pools on what they're calling the Bang Box Boogie Tour. If you're into whirling guitars, ethereal vocals and intricate melodies, plus a lifelong commitment to having long, Alan Moore hair to wave around like a proper freak flag, this party is for you.
Article content
Details: 7 p.m. at Dive Bar (9692 Jasper Ave.), $20.50 at pinkmountaintops.com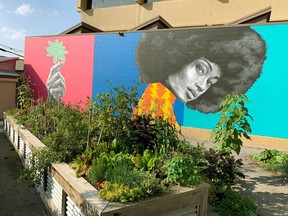 New murals are already up at Alex Decoteau Park by Keon the Artist and Natasha Martin. Photo by Fish Griwkowsky /Postmedia
EMF Party in the Park: Edmonton Mural Festival's second of three events happens Saturday with a new mural being painted live on the wall by local artists Keon the Artist and Natasha Martin. The surrounding block party complete with beer gardens starts at 3 p.m. with DJ Alex Phi, then Mitch for Mayor on the main stage at 3:30 p.m. After a mural tour of the area at 5 p.m., Roll the Bones and Mellow the Lion are onstage at 5:30 and 7 p.m. The event is free but you're encouraged to register at edmontonmuralfest.com. Come check out the ongoing evolution of our city's outdoor gallery spaces!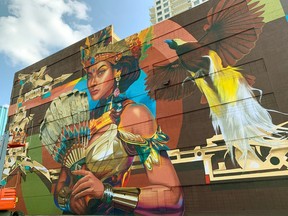 The Hardthirteen/Curly Whitebear/Annaliza Toledo collaboration Hero will be on the EMF Party in the Park tour Saturday. Photo by Fish Griwkowsky /Postmedia
Details: 3 p.m. – 8 p.m. at Alex Decoteau Park (10230 105 St.), no charge
Kimberley MacGregor: Her triumphant return since moving to Vancouver Island a year back! "This room is an Edmonton Institution," she says of Yardbird Suite, where she volunteered as a teen, noting the room "boasts amazing sound and a host of legendary performances. I'm some kinda chuffed to play two full sets of music with my incredible band family." Tzadeka, Kirsten Elliot, Elliot Thomas and Kevin Brereton join her on stage.
We apologize, but this video has failed to load.
Play Video
Originally Appeared Here