Article content
A look at Saturday's Edmonton weather by Environment Canada.
It's  10 C at the Edmonton Blatchford weather station early Saturday with 16 km/h winds from the west, northwest.
Article content
The welcoming hive of Edmonton and area, the province really, is growing with an influx of Northwest Territory wildfire evacuees forced away from their homes more than 1,450 km north of here. The worker bees are helping in any way they can to stem the sting of this seeming recurring summer threat, the shocking uprooting, the sickening forced exodus. Rains locally this week are more than welcome but the weekend forecast contains sunny skies before showers are set to return Monday evening for a good span of next week. May we manifest the same for our wildfire-ravaged N.W.T. and B.C. neighbours, forced to pick through so many unfair unknowns, stricken by such unfair plights.
Article content
Today's forecast
Today: Mainly sunny, with local smoke in the morning. High 17 C. UV index 5 or moderate.

Tonight: Clear, low 8 C.
Tomorrow: Sunny, high 21 C. Clear with a low of 13 C at night.
Sunrise: 6:20 a.m.
Sunset: 8:54 p.m.
Normals: 
Max: 22 C
Min: 11 C
Yesterday
Max: 15.5 C
Min: 10.1 C
Precipitation: 23.9 mm
On This Day (1996-2022)
Highest temperature: 31.9 C in 2022
Lowest temperature: 3.7 C in 2005
📸 Eye On Edmonton
This space is dedicated to some of the great and interesting photos taken by Postmedia photographers while they're out and about town.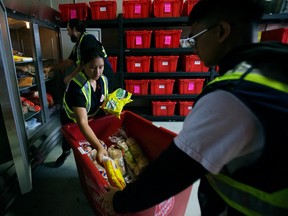 Edmonton Salvation Army members pack food into refrigerated trucks as they prepare to drive to Yellowknife to feed first responders battling wildfires, Friday, Aug. 18, 2023. Two Emergency Disaster Services teams have been deployed so far and will be driving up to Yellowknife with their mobile kitchens, food, and water to provide three meals per day to approximately 60 first responders. They hope to be cooking and serving meals by Sunday. Photo by David Bloom Photo by David Bloom /David Bloom/Postmedia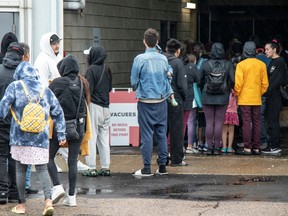 Weary evacuees arrived in Edmonton after a long drive from the Northwest Territories, fleeing wildfires. The Edmonton EXPO Centre started Friday, Aug. 18, 2023, providing food and lodging for those who left their homes. Photo by Shaughn Butts-Postmedia Photo by Shaughn Butts /Shaughn Butts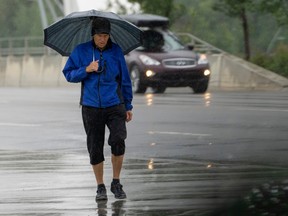 A pedestrian walks in the rain near the Walterdale Bridge on Wednesday, July 26, 2023 in Edmonton. Photo by Greg Southam /Postmedia
Scroll through our archived Eye On Edmonton photo galleries.
Follow Postmedia photographers on Twitter.