Article content
A 21-year-old man is dead and five more people are in hospital after an early morning rollover collision in southeast Edmonton Saturday that police say may have been caused by street racing.
Article content
In a Saturday morning news release, Edmonton police said they received a report of a collision at 4:30 a.m. in the area of 17 Street and 34 Avenue. Upon arrival, officers located a 2014 Cadillac Escalade in a nearby field fully engulfed in flames.
Article content
Police said there were six people in the Escalade at the time of the collision, one of whom, a 21-year-old man, was ejected from the vehicle and declared dead on scene. Five others were treated by paramedics and taken to a nearby hospital with two sustaining life-threatening injuries, police said.
The EPS Major Collision Investigations Section (MCIS) has taken over the investigation. Police initially closed both the northbound and southbound lanes of 17 Street between Silverberry Road and 34 Avenue but reopened them just after noon.
Article content



Autopsy confirms north Edmonton death a homicide




Edmonton police seek more victims after sex assaults against homeless women
Investigators believe the driver of the Escalade was street racing with an unidentified vehicle driving northbound on 17th Street and are asking anyone in the area who may have seen the second vehicle, or the collision itself, to come forward and speak with police.
Around 9:30 a.m., officers were seen investigating the vehicle in a field just off 17 Street, picking up debris and placing police markers. A tow truck arrived just before 10 a.m. to load up the burned out vehicle and take it away.
Anyone with dashcam footage from the area is also asked to contact the EPS at 780-423-4567 or #377 from a mobile phone. Anonymous information can also be submitted to Crime Stoppers at 1-800-222-8477 or online at www.p3tips.com/250.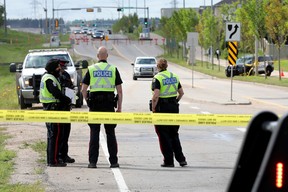 Police continue to work at the scene of a fatal crash near 17 Street and 34 Avenue, in Edmonton Saturday July 29, 2023. A 21-year-old man is dead and five more people are in hospital following the early morning rollover collision, that police say may have been caused by street racing. Photo by David Bloom /Postmedia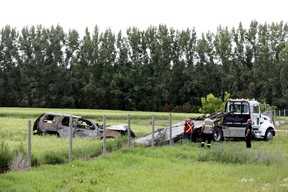 Tow truck crews work at the scene of a fatal crash near 17 Street and 34 Avenue, in Edmonton Saturday July 29, 2023. A 21-year-old man is dead and five more people are in hospital following the early morning rollover collision, that police say may have been caused by street racing. Photo by David Bloom /Postmedia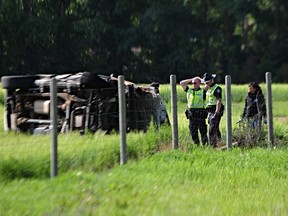 Edmonton police investigate the scene of an early morning collision in the area of 17 Street and 34 Avenue where a 2014 Cadillac Escalade rolled into a nearby field and engulfed in flames on Saturday, July 29, 2023. Photo by Trevor Robb /Postmedia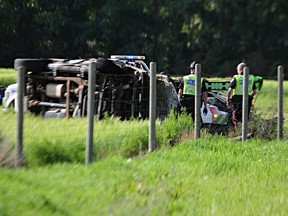 Edmonton police investigate the scene of an early morning collision in the area of 17 Street and 34 Avenue where a 2014 Cadillac Escalade rolled into a nearby field and engulfed in flames on Saturday, July 29, 2023. Photo by Trevor Robb /Postmedia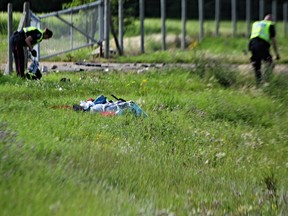 Edmonton police investigate the scene of an early morning collision in the area of 17 Street and 34 Avenue where a 2014 Cadillac Escalade rolled into a nearby field and engulfed in flames on Saturday, July 29, 2023. Photo by Trevor Robb /Postmedia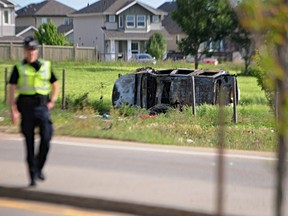 Edmonton police investigate the scene of an early morning collision in the area of 17 Street and 34 Avenue where a 2014 Cadillac Escalade rolled into a nearby field and engulfed in flames on Saturday, July 29, 2023. Photo by Trevor Robb /Postmedia
Originally Appeared Here