Reviews and recommendations are unbiased and products are independently selected. Postmedia may earn an affiliate commission from purchases made through links on this page.
Article content
Metta Grove: If you're feeling like connecting with the universe Saturday — and who wouldn't be? — Metta Grove is a trippy, cinematic art concert with roots in guided meditation and psychedelic experience. Featuring Simon Haiduk's digital paintings which exist somewhere between Tool concert visuals and the cosmic, space-wolf-filled finale of Star Wars Rebels, the innovative artist has created a synthesis of 15 years of his explorations in various mediums, fusing them into a unique audio-visual concert. Prepare to be calm and clear! 16+ recommended.
Article content
Details: 7:30 p.m. at Zeidler Hall in Citadel Theatre (9828 101A Ave.), $47.51 at citadeltheatre.com
National Tree Day: Keeping it in the forest, coming up Wednesday this event instigated by Tree Canada is a nice opportunity for you to celebrate trees, take action on climate change and connect with nature. Outdoor-lovers of the Edmonton community will be planting trees to increase biodiversity and expand tree cover within south Edmonton and Blackmud Creek. Over the years Tree Canada has planted some 84 million trees, so thanks for that! Tree hugging absolutely allowed.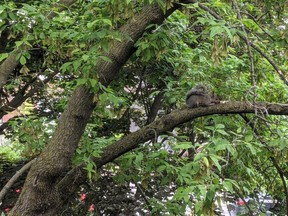 National Tree Day is this Wednesday. Photo by Maya Rolbin-Ghanie /supplied
Details: 4-6:30 p.m. at Cavanaugh Walking Trail across from 3303 Checknita Common, no charge
Broad View fundraiser: Back to Saturday, a dance party and silent auction is happening in support of the second year of Broad View International Film Festival coming up  Nov. 9-11 — Edmonton's first film fest to exclusively show off the work of female filmmakers. At 6:30 p.m. at Sugar Swing Ballroom there's a silent auction with nosh and libations upstairs, then the party moves downstairs with a swing dance lesson for a discounted $12, then an open dance party with projections of women-directed films through the night. There's also an optional costume contest with the theme of vintage outfits from the 1920-1950s, so if you want to support this cool festival and dress up, this might has your name written all over it.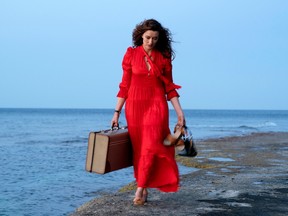 Valerie Buhagiar's Carmen closed the first Broad View International Film Festival. Photo by supplied
Details: 6:30 p.m. at Sugar Swing Ballroom (10019 80 Ave.), $12 at the door
@fisheyefoto