It may surprise you how cheap some of the tickets are.
The cheapest flight out of the province might cost less than a meal at several mid-range restaurants, provided you book it in advance. 
Flights connecting Vancouver International Airport (YVR) and Edmonton International Airport (YEG) are in high demand due to their ultra-low-cost price tags and the popularity of Alberta's second-biggest city. 
But you might want to have a gander at the available options before you make your selection. 
While your favourite airline might offer a reasonable price, it may surprise you how cheap some of the tickets are on select dates. 
Flights from YVR to YEG airport 
The first place you should go before you head to an airline's website is a price comparison platform, such as Skyscanner or Flighthub. Google Flights is the ideal place to kick off your search, however, since you'll be able to qualify your specific travel requirements in the filters. You can use the software to find the best travel dates to get the lowest price and then hop on to another website to see if you can get the price lower. 
There is also the "Google Flights search anywhere" tool that can help you find alternative cheap trips for your travel dates. 
For the Edmonton route, you'll see that ultra-low-cost carrier Flair Airlines has the lowest price on the route, with a jaw-dropping $38 ticket for a one-way, direct flight. 
WestJet flights on the Edmonton route start at $52, while Air Canada flights start at $64. 
Photo via Google Flights
Flights from YXX to YEG airport 
The Abbotsford International Airport (YXX) offers an even cheaper way to get to Edmonton. 
Flair offers a one-way, direct flight on the popular route for as little as $19. 


Photo via Flair Airlines
Discount carrier Swoop also offers a one-way direction flight on the popular route for just under $19.
Swoop's parent company, Westjet, made the decision to cull its budget brand earlier this year, citing fierce market competition. However, all available flights will move forward as scheduled.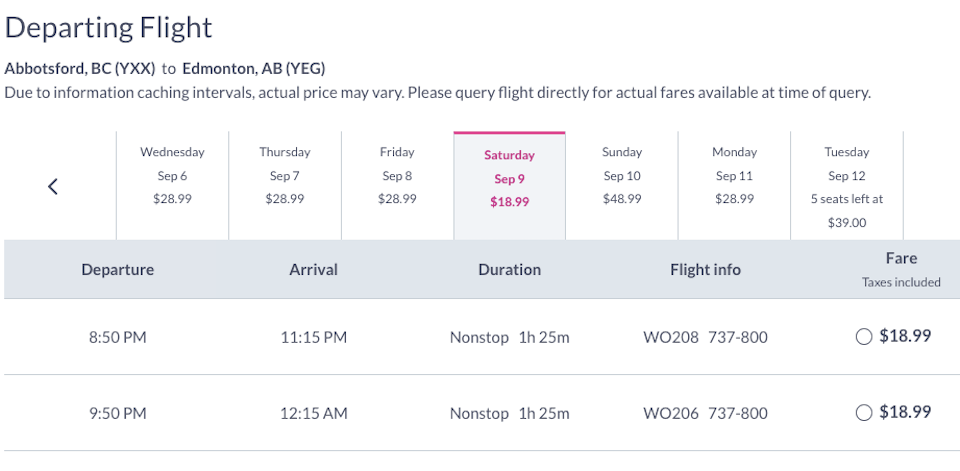 Photo via Swoop